One Last Queen's Day - 2013 Celebrations
Mini Break
Apart from Dam Square and Orange Square, as many as 200 parties and music events will be organized.
Our Top Experiences and Tours in Amsterdam:
If youʻre booking your trip to Amsterdam last minute, we have you covered. Below are some of the top tours and experiences!

2013 is a landmark year for Amsterdam for a variety of reasons, as the canals, museums, music hall and zoo all celebrate important anniversaries. But the BIGGEST party in town is still the world famous Queen's Day. And 2013 marks the end of an era, and the LAST Queen's Day for now! The Netherlands recently got a new king, and starting next year, there will be a King's Day (April 26/27) party. With Queen Beatrix's abdication, 128 years of Queen's Day celebrations come to an end, and Amsterdam is determined to party like never before. You've seen the pictures! You've heard the stories! This year, be a part of the grandest, craziest and orange-st farewell party ever held for a Queen!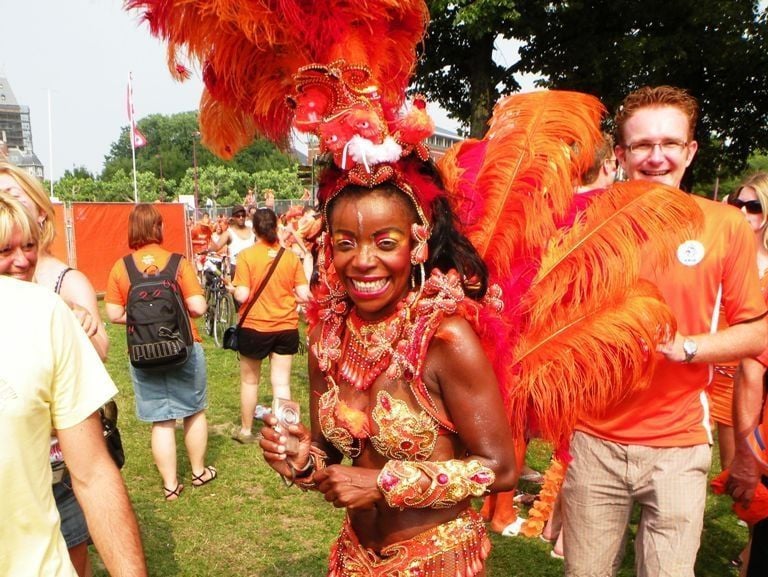 The Big Day
The Queen officially abdicates in the Royal Palace on Dam Square at 10:00 am on April 30, and will appear on the balcony of the palace with the Crown Prince and his wife and deliver a short speech to the crowds gathered to bid her farewell. The Prince will then make a short trip to the New Church across the square for his coronation. As history is made at Dam Square, there will be space for about 25000 people to be part of it, but Amsterdam is expecting over 800,000 guests at the Queen's Day party! If you can't catch a glimpse of the Queen or the New King in the morning, the next best place to be is the Museum Square (Museumplein), which will be renamed Orange Square (Oranjeplein) for the day. Join the huge party and enjoy some great music there, and pop into Dam Square for the Royal Ball that will continue till late, as Queen's Day turns into King's Night! 
The final Queen's Day party is too big for the canals where it is usually held, and this year the action shifts to the waters just north of the Central Station, to the Ij (pronounced Aye). The royal boat parade begins at 6:30 am, and you can join on a boat, or catch the action from either bank of the river! Just make sure to find a spot a little away from the station, so your view is not blocked by large ships! The parade ends quite literally with a bang, as gun ships in the river salute the new King.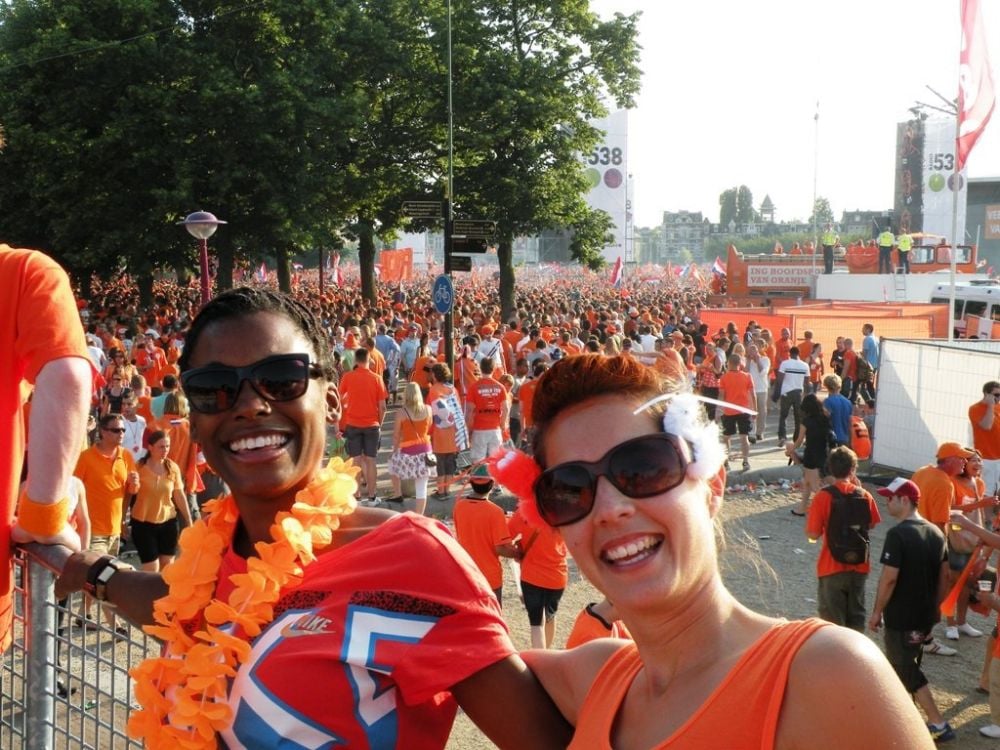 The Eve of the Party
Why wait till the morning to start partying? That's Amsterdam's mantra, and it's no surprise that the crowds pour in the previous nights, and the parties begin on Koninginnenacht or Queen's Night. Clubs have special events and some venues outside the city are completely free. Party-hop all night and ring in Queen's Day with a blast! 
Go Orange!
All of Amsterdam on Queen's day will be… Orange! Clothes, hats, feathers, tinsel…it's orange all the way as the Dutch and the visitors dress in the color of national pride and take to the streets and waterways with music, beer, food and celebrations all around! No orange is too bright, no accessory too whacky at this queen of street parties! Get yourself the brightest Orange clothes and accessories you own, or just but some from the dozens on roadside stores that pop up on Queen's Day.
Other Queen's Day Attractions
Books, antiques, clothes, snacks, knickknacks…just about anything you can imagine is on sale in the streets of Amsterdam on Queen's Day. For one day, the entire city becomes a market as families set up stalls to sell off all their extra possessions for very little money. There are some amazing bargains and invaluable treasures awaiting you for a pittance, and if you don't believe us, believe the Queen who is known to have bought a lamp at this vrijmarkt or free market! No VAT, no tax, and a fifth of Amsterdam selling wares: shopping does not get cooler than this!  A special vrijmarkt for kids is being set up in the Vondelpark and the Ij-Hallen this year, where they can make some extra money! 
Apart from Dam Square and Orange Square, as many as 200 parties and music events will be organized around town. The awesomely-titled Royal Dutch Party Association is hosting the first King's Day Party, a huge shindig in Amsterdam's Olympic area, where famous national and international electronic artistes will entertain thousands of fans.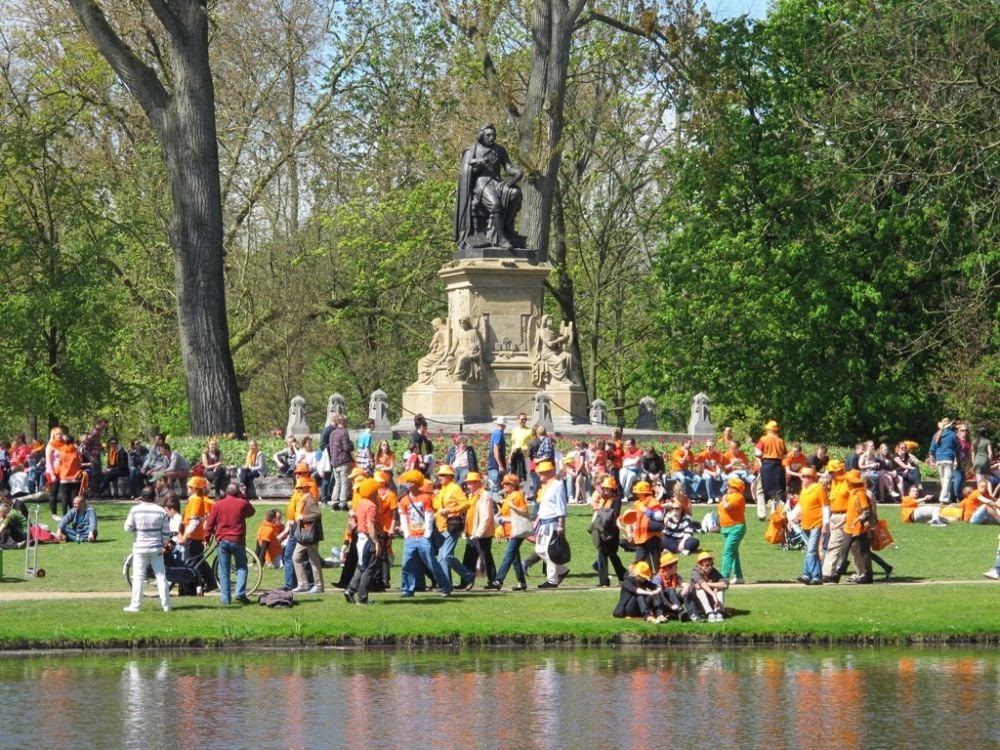 A brief history of Queen's Day
The Koninginnedag or Queen's Day celebrations began as Princess Day on August 31 in 1885, the fifth birthday of Princess (later Queen) Wilhelmina. The name changed to Queen's Day just five years later, when she ascended to the throne of the Netherlands. When Queen Wilhelmina was succeeded by her daughter Juliana, the celebrations shifted to the new Queen's birthday, April 30. When her daughter Queen Beatrix ascended the throne of the Netherlands, she retained the April 30 celebrations in honor of her mother, which was great news for Queen's Day revelers, as late April is time for sunshine, spring, tulips and all-round bonhomie in the Netherlands! In 2013, Queen Beatrix decided to abdicate in favor of her son, Prince Willem-Alexander, who continues in the tradition of having a spring birthday! King's Day shall be observed on April 26th in 2014, and April 27th from there onwards, which means 2013 is the last big Queen's Day party you can catch.
Practical Advice
Public transport within the city is not available on Queen's Day, and most international trains are routed away from Amsterdam Central Station. If you're planning a visit to Amsterdam at this time, make sure you work out logistics like bookings well in advance, and prepare yourself to walk or cycle for the entire day. If you're uncomfortable around crowds and in noisy spaces, it might be a good idea to skip the festivities and stay indoors. If you're up for a party, however, we can assure you it'll be a day you will never forget!