24 Hours in Amsterdam
Inspiration
If you're fond of beer, you have to pay Brouwerij 't IJ a visit at least once
As cities go, Amsterdam has a lot to offer the average visitor. But how does one really divide his/her day between all the things to do in Amsterdam: the museums, attractions, culinary culture and hedonistic hideouts that bedeck the city? A guest writer Lachlan Williams made the attempt last summer during a week-long trip to Amsterdam. Here's a day's account of his travels:
8:00 am
Last night's debauchery seemed to have taken its toll and I awoke bleary-eyed and tousle-haired, with what seemed like howitzer practice going on inside my head. I scrambled for the hotel telephone and called for a pot of tea. Looking out through the window, I could see the Herengracht with the waters licking at its supports. The rectangular canal houses set across in red, brown and grey were decked side by side overlooking the tranquil waters. The intermittent tring-tring's of the bicycles along the road as one cyclist yelled 'Let Op!' (Look out!) to some poor old lady doing her groceries. In moments like these, all you need is a pot of tea and some time on your hands.
9:00 am    
After a quick gear-up I flipped out my trusty notepad to make note of all the top things to see. Yep, Hermitage Museum, Brouwerij, Royal Palace, Mulligan's Irish Pub and probably a pit-stop at one of those notorious coffeeshops before hitting the sack. Schedule was set, camera was strapped; time to go.
9:30 am
I politely declined the hotel staff's invitation to attend the buffet breakfast, asking instead about good restaurants in the nearby area.  Apparently I wasn't specific enough, as the hotel attendant proceeded to find out my preferences by listing a bevy of cuisines, most of which were terms alien to me. After having him repeat all the cuisines twice, I opted for Greenwoods, an English tea room/restaurant in Singel.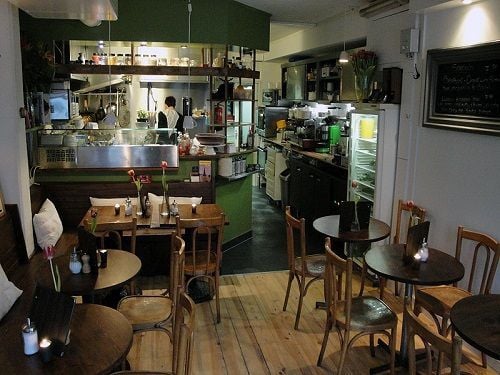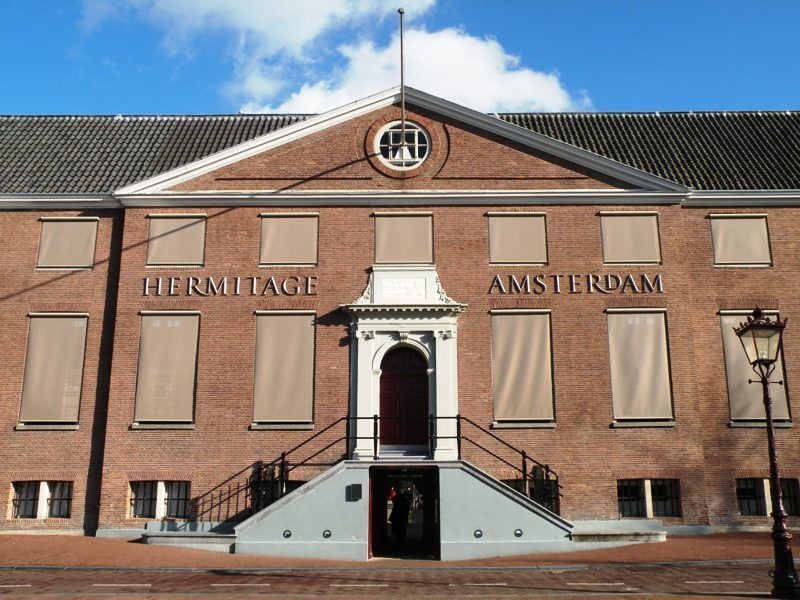 10:00 am
A quaint-looking English tearoom, Greenwoods has been in the business since 1988 and is most popular for its tea and organic produce. My tummy was growling so I let my gluttonous side take over by ordering a portabella mushroom open sandwich along with organic scrambled eggs and freshly squeezed orange juice for company. I tried the apple crumble along with their tea, fantastic combination. Gastronomic appetite taken care of, I headed for the Hermitage Museum, which came specially recommended by a friend who had visited last May.
11:30 am
I walked up to the scenic Magere Brug (Skinny Bridge) from the Waterlooplein station, the views along the Amstel here were stunning. The place also looks great at night with all the lights reflecting upon the water. After ambling about a bit, I headed towards the Hermitage, which doubles as an exhibition as well as a cultural education centre. The collection over there is mind-boggling, from the displays of gowns worn by tsarinas of medieval Russia to full metal-plated Knight's armour, complete with the armour for his steed. I met quite a dynamic lady on the tour who seemed to be very interested in getting to know more about the infamous Orthodox mystic, Grigori Rasputin. I suspect she was more curious to know about his amorous exploits than his role in the tsar's misadventures but didn't voice my doubts. But the place kept me busy for the next hour or so and I came out promising myself to go visit the Hermitage Museum in St. Petersburg, if my savings allowed it.
1:30 pm
With the idea of following up an interesting tour with another, I decided to hit the queen's abode in Dam Square. The Royal Palace, or Koninklijk Paleis in local parlance, is one of the four palaces allotted to the queen by the Government here. Usually open to public visitors, the palace gates stay closed during official visits like royal processions, receptions of various heads of state or when HH is feeling particularly iffy. Anyway, there were quite a few interesting exhibits during the self-guided tour, especially the engraving of early maps depicting stars and the earth on the floor. Apparently the folks in Amsterdam hadn't been to Australia or weren't too fond of it because the country's shaped in an odd manner. But the construction of the upper parapets and the overall design definitely made this one of my favourite palaces yet visited. The central hall was especially riveting and the chandeliers lining either side were hard to tear your eyes from. I came back with a couple of souvenirs and a handbook tracing the palace's roots, which involved a certain Frenchman who's been labelled the first Antichrist in recent times…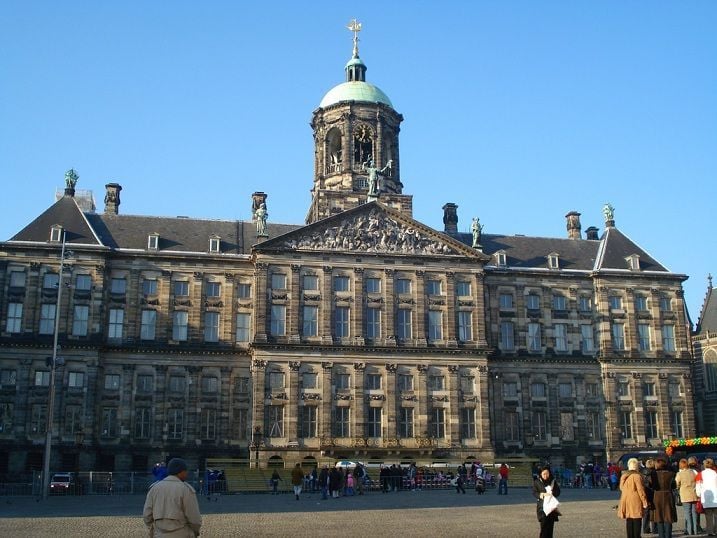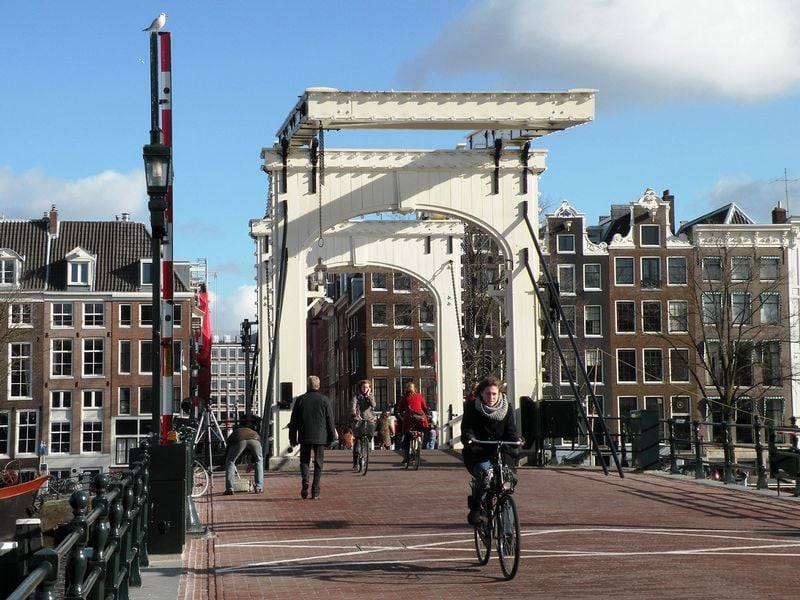 3:30 pm
Enough of sight-seeing for the day. I had yet to pay Brouwerij 't IJ a visit, which had been strongly recommended by several websites I had surfed before arrival as a must-see. 20 minutes of resolutely walking down the cobbled alleys and footpaths, narrowly avoiding a bike messenger along the way, I finally reached the ever-popular brewery-cum-pub.
3:45 pm
Spent 10 minutes clicking pictures of the windmill besides Brouwerij 't IJ before heading inside where I learnt that, as it was Friday, free tours would be given from 4pm. After this happy accident, I went for the beer sampling tour which included beers I hadn't tasted before, although the taste was more or less Belgian. Tip for tourists: If you're fond of beer, you have to pay Brouwerij 't IJ a visit at least once, although I'm planning to go again tomorrow. Try pronouncing the beer names after a couple of downers, you'll be chortling into your beer for sure. Wish I'd stayed around and sampled some of the cheese they were offering with the beer, but I had planned on a full meal at a nice restaurant so had to pass. 
5:00 pm   
A whiff of salmon from a passer-by's shopping bag convinced me that my next meal had to be seafood. Being none the wiser, I decided to call up my trusty, been-there-done-that friend who had advised Hermitage before. I asked him if there were any good seafood restaurants near Central. Pat came back with the reply, Lucius Fish Restaurant and best get a reservation first. It was too late for a reservation anyway, so I decided to just go to this restaurant in Spuistraat and see if I'd get lucky.
5:15 pm
Fortune seemed to be on my side as I got the table that had only just been vacated. While I counted my blessings, the extraordinary smell of fresh, cooked fish wafted into my nostrils from every direction possible. Lucius Fish Restaurant is a very busy place and like my friend suggested, it's best to have reservations beforehand. I ordered the tuna steak with a glass of Genever along with a side serving of simple green salad. The meal turned out to be splendid, with the tuna pieces being succulent enough to melt in the mouth and I ended up tipping the waiter far more generously than my budget prescribed. After patting my stomach as only a content, well-fed man can, I decided to head off for a walk to De Wallen, which is about 20 minutes away on foot.
6:00 pm
I finally reached De Wallen, popularly known as the Red Light District and spoken about with suitable number of winks and nudges. But I don't think I've ever been in a place more misunderstood. It has a tamer side, something most tourists don't appreciate. It couples as a residential area as well as a significant cultural and historical quarter of the city. Museums, restaurants and shops dot the streets, which also lead to the oldest parish church in Amsterdam, De Oude Kerk (The Old Church). An imposing structure, De Oude Kerk once played host to the organ recitals of Jan Sweelink, the organ maestro. I spend a good hour clicking photographs of the church. (Don't click pictures of the prostitutes in De Wallen, especially if you love your camera. They'll snatch it, probably break it and ensure you double-time it on the way back)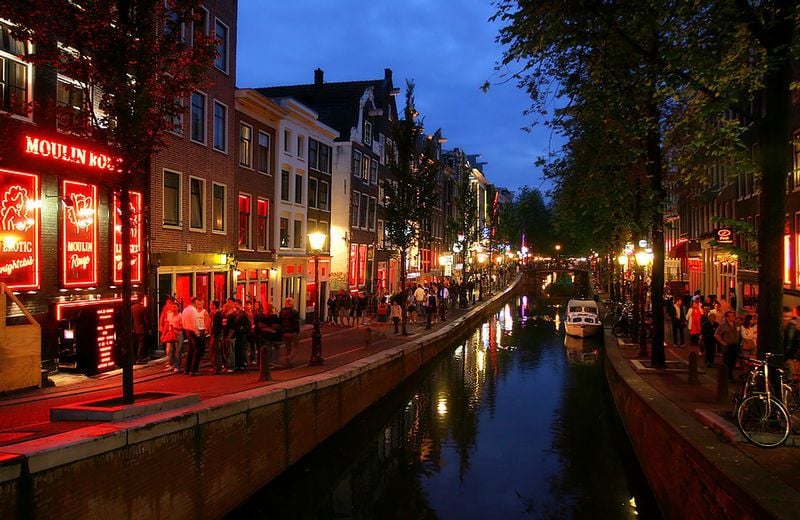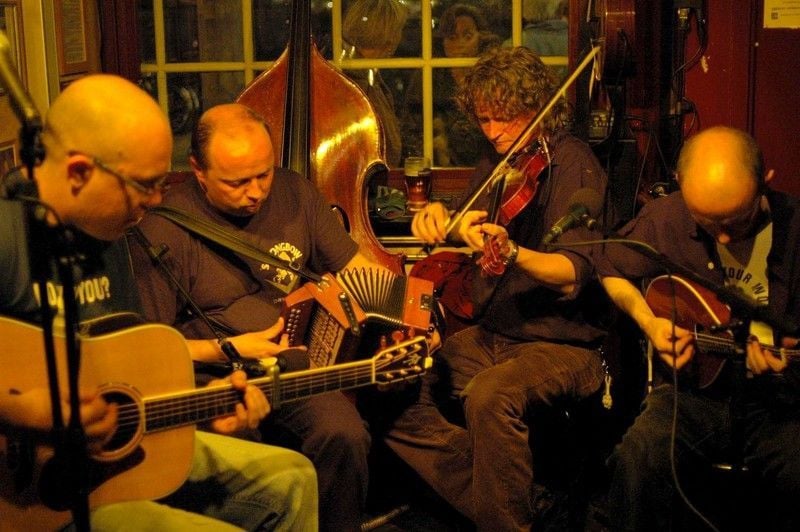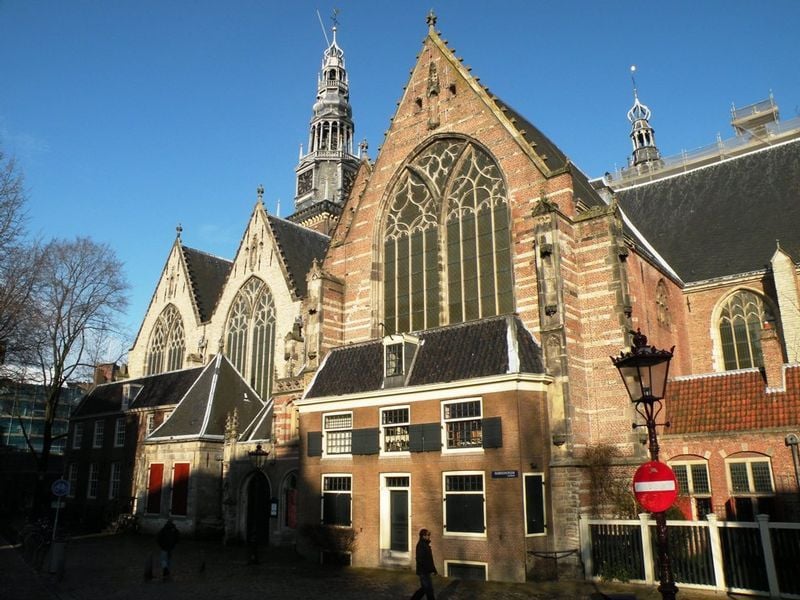 7:30 pm
By now, I felt it was time to give Mulligan's a visit. The Mulligan's Irish Bar in Amstel pays homage to the ale and rowdy drinking songs of the Irish. Went down the beaten path and ordered a Guinness, just the one since I was still quite full from the heavenly meal and beer from before. I still had the coffeeshop to hit so I left soon after an awkward chat with an inebriated gentleman who was convinced I looked exactly like his neighbour and was eyeing me with a considerable amount of suspicion. 
8:15 pm
I walked along the road towards Muntplein, where I was told about a coffeeshop that went by the name of De Rokerij. Apparently, there are 4-5 more of these scattered across the city. Stepping inside, I could see the place had a 'fabled land' theme going for it. A very medieval church-esque setting, seats that were almost hugging the ground and the usual dim lights set the mood for the coffeeshop's guests.  The music was pretty chilled here, usually trance Tony Igy numbers with the odd popular hit thrown in. I chose the White Shark from the menu, which was quite reasonably priced and started a desultory conversation with a German couple from the next bench. They seemed to be pretty far out and after a few spliffs of the White Shark, we were enthusiastically planning a trip to the Orient. Still, conversation flowed smoothly, the buds were smoother and the entire ambience was wonderfully relaxed. After a day's worth of tripping and sightseeing, this time-out was definitely needed. After a couple of hours of smoking and speaking, the munchies got to me and I decided to head for FEBO, an automat eatery that had been suggested by the couple.
10:00 pm
After a 2-minute walk that seemed like a hike, I mercifully reached Rembrandtplein. A couple of more minutes of delay as I listened to a fascinating rendition of Beethoven's 14th by a roadside flutist and I was finally at FEBO.
10:05 pm
FEBO is definitely the best place to go if you need food fast. Cheap, instant food that tastes much better than the Dutch will tell you. I asked around a bit and got to know that FEBO's croquettes were something of a piece de resistance, so went for that. The kipcorn (chicken snack) and the frikandel were yummy. FEBO has inimitably become part of the Dutch culture, so much so that if you haven't been to FEBO, you have yet to taste Dutch fast food. Or so they say.
I hung about for some more time, taking in the picturesque setting of Rembrandtplein, complete with dancing lights and all kinds of cultures melding together with their diverse tongues forming a soothing symphony.  
11:00 pm
Munchies taken care of, I decided to call it a night and headed straight back for my hotel and my inviting bed, pausing only to make note of places visited and those to be visited tomorrow.