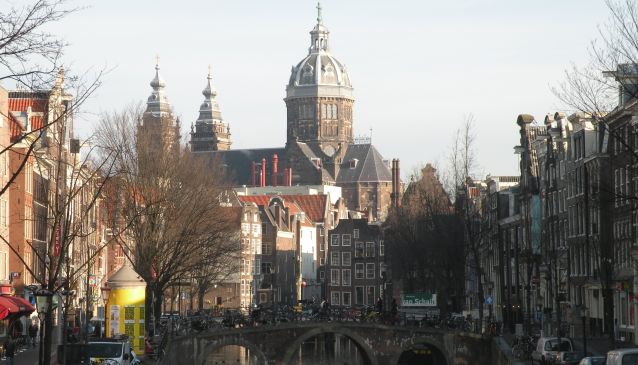 Amster...Dam! What a Variety!
Arts & Culture
Amsterdam is crammed with things to do that don't involve some degree of vice!
It's true, you know. What you heard about Amsterdam. About being able to purchase jazzed-up cigarettes – or confectionary – in reputable establishments, and being allowed to puff – or munch – them there and then, while sipping a mochachino and delving into the kind of philosophy that's frankly out your league. And what you heard about the Red Light District is also true. There really are scantily clad women in windows who will gladly negotiate a price for various erotic services. If you're into that sort of thing.
But this is only one side of the Dutch capital. The Hyde as opposed to the Jekyll, if you like.
There's so many things to do in Amsterdam. The city has more museums per square mile than any other in the world, six of its restaurants are Michelin-starred (and many more should be), there are heaps of 5 Star hotels, its Canal Belt was recently named a UNESCO World Heritage site and there are designer shopping districts that rival those of Milan.
But perhaps you already know some of this. Perhaps you visited when you were younger, and you learnt first-hand the guilty delights of Dutch tolerance. In which case, you might want to consider a second visit, to discover the cultural and historical side to the city, and return home with a head full of knowledge rather than confusion. Or perhaps you visited later in life, and have already seen the museums and eaten in the restaurants and marvelled at the prettiness of the canals at night, in which case the time may be ripe for a mid-life crisis, and you might want to discover the seedier side to the city, and experience for yourself the guilty delights of…
In any case, we at My Guide Amsterdam have a duty to tell it how it is. So to celebrate becoming the latest addition to the My Guide global network of travel guides, we have put an article together that proudly embraces both aspects to the city: the naughty and the nice!
The Birds and the Bees
Or sex, to put it more bluntly. Sex, and all things related, is often on show in Amsterdam's Red Light District. If you're unsure, you can check out a sex museum to see how people used to have sex, or better still, check out a sex show to see how they have it right now. Alternatively, nose around a sex shop to see how you can make your own sex sexier. (Keep in mind, though, that if you can avoid all the sex if you plan your routes very carefully, or shut your eyes). The Red Light District also has women who will have sex with you – yes, you – but it is possible they won't love and respect you. That costs extra. Unbelievably, there are rich people who live in the Red Light District (a house would set you back €1m) who are oblivious to its seedy side. Not that Amsterdam is seedy – that's the whole point of legalising and tolerating things, so that they lose their negative connotations. It's not just the younger crowd that visit the Red Light District – older people can often be seen touring it, giggling.
Ladies of the Night. And morning, lunchtime and afternoon
We won't beat about the bush here (though you might have to) because there's really little point: prostitution is legal in Amsterdam, it has been for a long time and it will be for a long time to come. It is not for us to condone or condemn the practise, but we can tell you about it. Or rather, the Prostitution Information Centre can. Set up by former prostitute Mariska Marjoor in 1994, the centre, which employs many former sex workers, aims to educate people on why women make the decision to turn to the controversial profession, and also dispels many myths surrounding the nature of paying for the physical act of love.
If you're more of a hands-on learner, the Red Light District, known to locals as The Wallen, is a cobweb of cobbled streets strung across numerous canals, located in the oldest part of the city. And that's all we're going to say about that.
Cough-ee Shops
Don't be misled by coffee (or indeed cough-ee, which we accept was a terrible pun); Amsterdam is about as famous for its coffee as Antarctica is for its palm trees. These murky little hovels are where people come to get stoned. Or high. Or baked. (Yeah, we know what you're thinking: You so street!) Anyway, here's the newsflash: cannabis is illegal, but tolerated in Amsterdam. Which makes absolutely no sense whatsoever, but that's really not your concern. You will typically be handed a menu which lists the various types of marijuana on offer, and you can either buy premade joints or roll your own. If you don't like smoking but still want to discuss philosophy that's frankly out your league, cakes, brownies and tea – all laced with the green stuff – are also on offer. The effects of cannabis will hit you more or less immediately if you are inhaling it, meaning you can monitor your sanity to an extent, but if consuming through your stomach, the effects take upwards of an hour to kick in. So don't make the ultimate schoolboy error or cramming ten hash brownies down your gullet at once, while bragging to your friends about your cast-iron immune system. The results will be disastrous for you. And absolutely hilarious for your friends.
Stags, Hens, Gays and Lesbians
Speaking of friends, Amsterdam is still one of the best places in the world to have a stag or hen party. Countless bars and clubs are spread across the city, making the it one of the greatest nightlife spots in the world. Amsterdam also caters magnificently for the gay and lesbian communities. It is the gay capital of Europe and home to such legendary events as the Gay Pride Parade in August, and the Pinkster tournament in June, which is the world's largest gay tennis event (though it must be said, there aren't many competing for the honour).
Right, we're done with the crazy stuff for the time being. Now it's time for some culture!
Museums
As noted earlier, Amsterdam has more museums per square mile than any other city in the world. For a brilliant overview of the city, you can't go wrong with the Amsterdam Museum. The engaging displays, which are made up of multimedia, art and artefacts, take you through the history and development of the city, and chart significant events in its past, such as protests and celebrations, and sporting success.
Another of our favourites is the Anne Frank House, located on the west canal belt at 263 Prinsengracht. A poignant reminder of the terrible persecution of the Jews at the hands of the Nazis, the diarist's former home has been open to the public for over 50 years and displays the original – and now world-famous – diaries she wrote during her two years in hiding. This place gets extremely busy during summer, so to avoid the queues visit when the doors open at 9.00.
Theatre and Concerts
With its abundance of theatres and concert halls, there is always something going on in Amsterdam. The city boasts some remarkable venues, such as the recently refurbished Koninklijk Theater Carré, which overlooks the River Amstel and has a history stretching back to the 1800s. The grandiose interior, with its royal reds and gilded balconies, plays host to theatrical, operatic, cabaret and musical performances. The venue also has a fantastic restaurant where you can expect to pay around €35 for a three course meal.
Another brilliant venue is the imaginatively named Concertgebouw, which translates into English as 'concert building'. The impressive location boasts some of the best acoustics in the world and is used mainly for classic concerts, although jazz and other genres can sometimes be enjoyed here. The Royal Concertgebouw Orchestra is the most regular act, notching up around 120 shows a year. The Concertgebouw is open all week from 10 a.m. to 8 p.m. and reservations can be made anytime during these hours.
Everything Else
And there's a lot of it. Amsterdam is crammed with things to do that don't involve some degree of vice. You can take a boat tour around the UNESCO designated Canal Belt, you can relax in one of the numerous tea and lunch rooms, you can splash your cash in one of the city's legendary shopping districts, you can nose round one of the city's bustling markets, you could catch some rays in one of Amsterdam's glorious green spaces, you can get pampered to your heart's content in a tranquil spa, you can take a bus tour, bike tour, walking tour, or even a Segway tour around the city.
However you choose to spend your time in this great city of ours, we can absolutely guarantee you one thing: you will never be bored.