Family Fun in Amsterdam
Family Fun
It's about discovering the real essence of Amsterdam
You'll be surprised to know that, apart from the notorious coffee shops and carnal consummations, Amsterdam has a lot more for the taking. As a city vested in the tenets (more like virtues) of liberalism and a 'live and let live' credo, Amsterdam does come across as a flag point for all things hedonistic. And while this may be true, it does not mean that the city has turned a blind eye to everything else and it is very much a family-orientated city.
For example, the archetypal family with young kids could go to a couple of well known Amsterdam attractions, probably fit in a museum or two (don't overdo it, especially if you have a 10-year old with a temper), and generally spend the day walking around the streets checking out the shops and restaurants, that throng the place, while missing all the excellent facilities and entertainment offered for children and young adults.
So, here's a guide to the abundance of things to do in Amsterdam for a typical family. A point that just can't be stressed enough: variety is second nature to Amsterdam. So, we have tried to sort family activities and what to see in accordance with the plethora of attractions, activities, beaches, cinemas, parks and educational tours among others. Here goes...
Attractions
Starting with some popular family attractions, you could probably head over to the Artis Zoo. A no-brainer, really, since most kids demand a trip to the zoo for finishing their homework on time, but the Artis Zoo is special, for children as well as parents. For one, it allows your child to get up close with the animals, since most of the animal enclosures don't have fences as such. Instead, the only thing separating you and that Lion right in front of you is a ditch (and it's safe). Secondly, if roaring lions and gorillas doing mating calls isn't your thing, opt for the in-house Planetarium instead, or check out the Reptile House to get a gander at the creepy-crawlies.
Next, you could head over to Madame Tussaud's and have the little 'uns get their pictures clicked along with their favourite actors, sports stars etc.
The Science Center NEMO is a lot more fun than it sounds. Drawing a thin line between reality and fiction, the Science Center NEMO could be a great way for a family to get acquainted with how the world works.
Next up is the Amsterdam Dungeon, which is sort of like an indoor theme park with loads of thrills, chills and a dash of some unnerving history in it. I can imagine mothers shaking their heads vehemently in rejection, but it's actually quite a lot of fun, what with the frighteningly enjoyable actors, dark and murky ambience and the bloodcurdling themes. It is, really!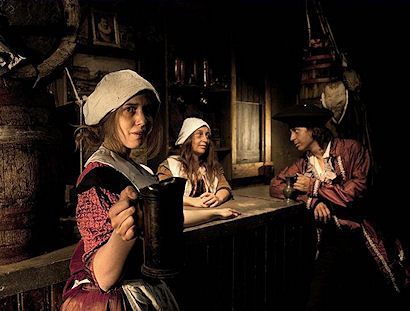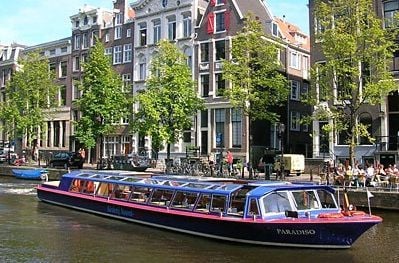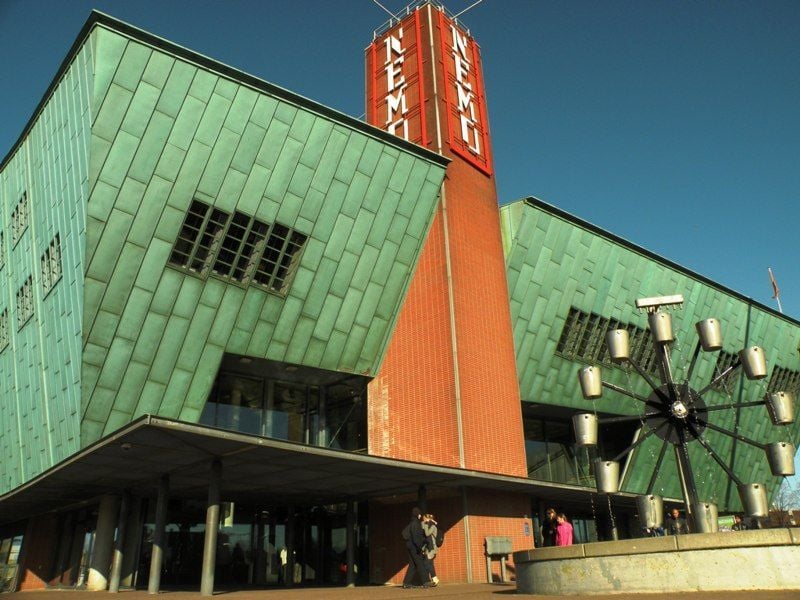 Activities
Had enough of the attractions? Need a place to have those legs up and running? Then take your bunch to the Fun Forest Amsterdam, which has a sort of obstacle course where you can have some outdoorsy fun, what with all the climbing and monkeying around.
Your children won't be able to thank you enough if you take them to the TunFun Playground, which can be described as similar to the pleasures that a bar would hold for adults. Replete with Jump cushions, kiddie discos and slides and pools, basically everything a 10-year old would drool over. Parents can enjoy the time-off with a little R&R at the nearby cafe.
During the summer months, nature-enthusiastic families can hit the Wetlands Safari and have a canoe ride through the reeds and marshes near Amsterdam. Great option if you want to get up close and personal with the untouched naturalistic beauties of this sea-kissed city.
Finally, complement the evening's dipping sun with a dip of your own at the swimming pools of Mirandabad or Zuiderbad.
Beaches
The aforementioned activities can take their toll, so head over to one of Amsterdam's urban beaches for some sun-soaked relaxation. Take your clan to Strand West, a popular beach in Western Amsterdam where sunbathing and sandcastle-building alternatives are plentiful. If the regular city beach is too much of a passé for you, zip off towards Blijburg aan Zee, which has a more bohemian appeal to it.
Nights could be reserved for cinema jaunts. Theatre Tuschinski is strongly recommended, especially for families. Offering a charming ironic twist with a glitzy red carpet ambience inside a medieval-esque structure, Theatre Tuschinski is a great place to enjoy a nice movie. Après-dinner and drinks at nearby restaurants and bars ought to complete the night for you.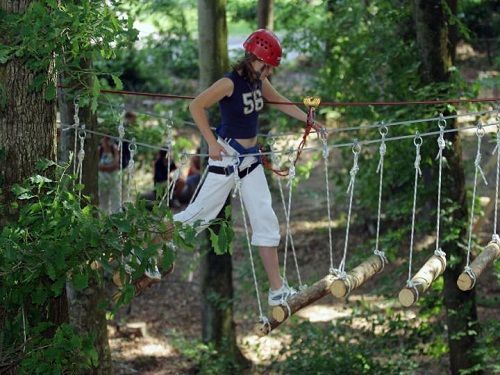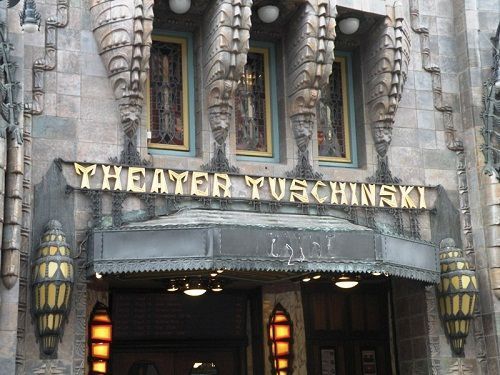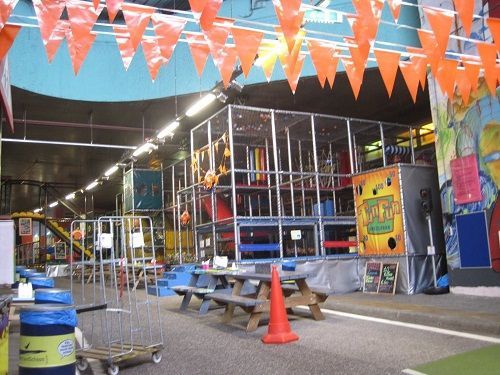 Parks
For starters, Vondelpark is well-known as the epicentre for family picnics and run-arounds during breezy, sun-splashed mornings. Another option would be the Amsterdamse Bos, which is a pretty epic hangout if you're interested in, let's see, picnics, outdoor activities, sports, horse riding, theatre, canoeing, cycling and so on and so forth. Take your pick.
Educational Tours
Visiting a city that's more than 800 years old, it helps to know more about its history, culture and society, more so if you're travelling with your kids. It's immensely important for their own personal growth and maturity to have an inquisitive nature towards different people and places. So, to start with, you can notch the Anne Frank House on your itinerary. As a splendid war memorial dedicated to the Holocaust and the diary penned by the 15-year old child during WWII, Anne Frank's House deserves a visit.
If you have a football fan in the family, make sure you pay a visit to the World of Ajax Tours, which gives a comprehensive tour of the Amsterdam Arena and the incumbent football team, AFC Ajax.
No trip is complete without having a stint with the lifestyle of the locals, which is why the Houseboat Museum should also be included in your list. Learn what it feels like to have a living space on a boat moored along the canals. An affair to remember, truly.
If humans can live on a boat, why should cats be denied? Let's save the debate for later as we bring to you, De Poezenboot, literally known as the Cat's Boat. If your child is an animal lover, they would love to see all the feline strays awaiting adoption housed inside a lovely boat near the Singel Canal. It's a win-win situation, as there's no charge for visiting.
Finally, the Molen Van Sloten - Kuiperijmuseum will transport you back through the ages, into the realm of windmills and coopery crafts. A great getaway from the usual.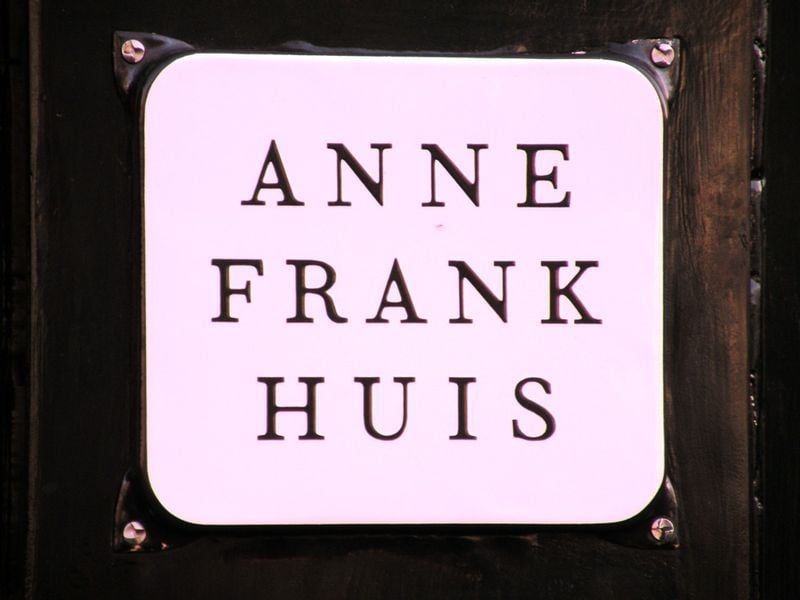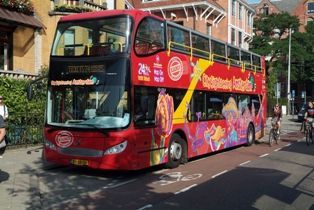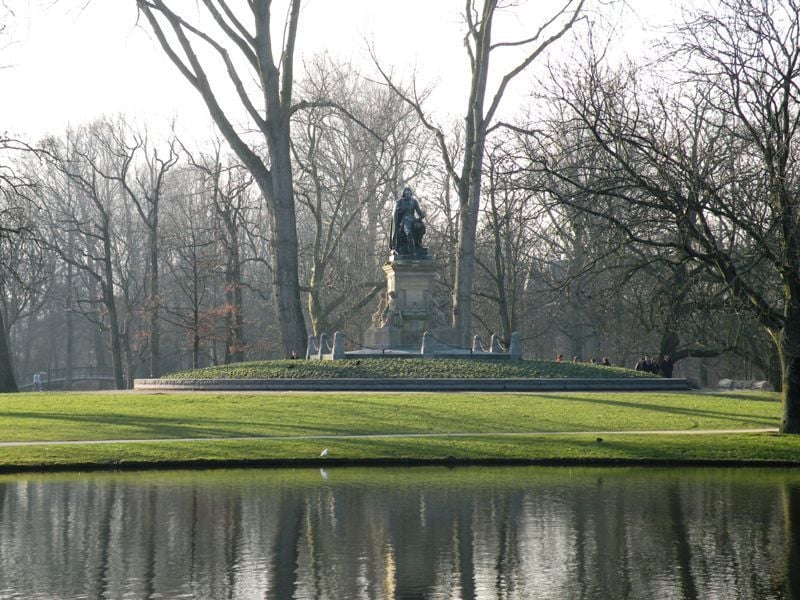 If You Aren't Tripped Enough!
Taking a trip to Amsterdam is not all about visiting museums, attractions and monuments; it's about discovering the real essence of Amsterdam, its people, cultures and the general ethos.
Ambling down the cobbled streets, you're sure to discover a lot of things that probably weren't mentioned in the guide. So, go out and take one of the many boat tours around the beautiful Amsterdam canals.  Alternatively you can take a bike tour around the city; or rather, do it yourself with a bike rental.  Finally, if that all sounds like hard work then why not  take a  bus tour  to explore the city outskirts to get in sync with the real dogma of the Amsterdammer.    
So have a blast with your family in Amsterdam and hey, don't go by the book, explore! You'll probably find many more things to enjoy in Amsterdam with your family (In which case, send us an email and let us know!).