Discovering Amsterdam - The Nieuwezijde
Inspiration
Call it kitsch, but you can't walk past the Sex Museum without a second glance
You're in for a surprise if you come to the Nieuwezijde or "new side" of Amsterdam expecting swanky modern buildings, state-of-the art housing and shiny newness all around. The historic "new side" of Amsterdam has been around since the early fifteenth century, almost as long as the Oudezijde or "old side," and these two areas together made up the city of Amsterdam at the time.
Your Nieuwezijde experience begins as soon as you reach Amsterdam Central Station.
The current building first opened in 1889 and today over 200,000 visitors pass through its magnificent structure everyday. Step out of the station, or take a tram (numbers 1, 2 and 5 pass through the Nieuwezijde) and you'll enter a world where time has stood still: 14th century houses and monuments line the commercial street called Nieuwezijds Voorburgwal, leading you to the world-famous Dam Square and the bustling Spui. On the way, don't forget to check out these attractions: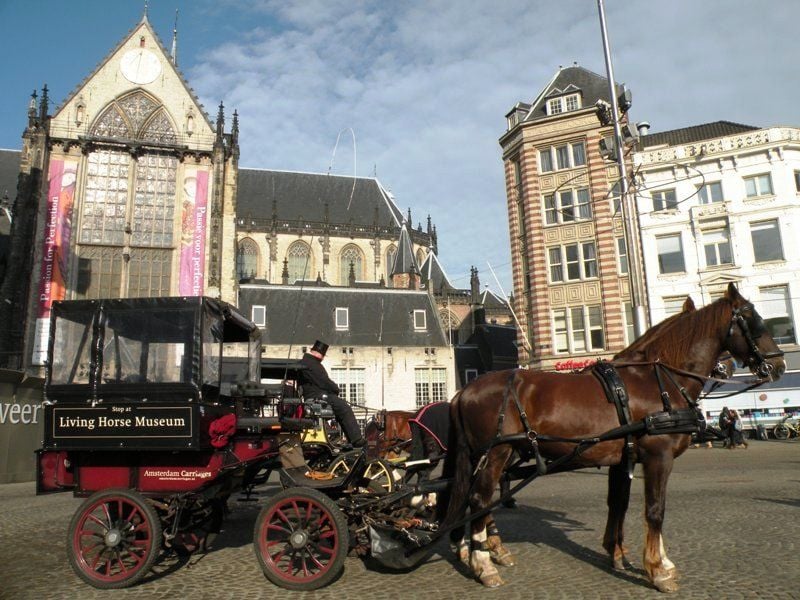 1) Sex Museum: Call it kitsch, novelty or plain old commercialisation, but you can't walk past the Sex Museum on the busy Damrak street without a second glance. Walk in for an exciting, scandalous and most enlightening array of objects and information on the world's favorite subject. You're even allowed to take pictures that you and your friends can snigger at for years to come!
2) Dam Square: You'd have to stretch your imagination a fair bit to believe that the grand town square of modern Amsterdam was once a dam on the river Amstel (Amstel+Dam = Amsterdam!). As pigeons walk and fly about in their hundreds, you can enjoy a beautiful public space where street performers put up shows, fairs and sports events are everywhere dissuading the milling crowds from ever leaving.
Surrounding you are some of the most interesting buildings and tourist attractions of Amsterdam.  Here are some of the most famous:
Koninklijk Paleis: The Royal Palace at Dam Square stands proud and tall in the centre of the city. Starting off as a city hall in the seventeenth century, it was converted into a royal palace by Louis Napoleon. The breathtaking architecture, imposing cupola and the maps of the world on the marble floors of the central hall are worth a visit. Since a renovation completed in 2009, the palace attracts thousands of visitors to witness its newly restored grandeur.
De Nieuwe Kerk: It's not really new, you know. Built in the late fourteenth century, the Gothic church is a grand companion to the Royal Palace on the Dam, and visitors can drop by for exhibitions, organ recitals, or just to marvel at the stone carvings and stained glass windows. The café and museum store offer a place to relax and pick up classic souvenirs.
National Monument: The imposing World War 2 memorial monument was built in 1956, designed by Dutch architect J.J.P. Oud, with sculptures by John Rädecker and his sons. The 22ft white stone monument is an imposing centerpiece and a great meeting point. 
Madame Tussauds: Want to shake hands with world leaders, blow kisses at film stars and be rescued by superheroes? Look no further than Amsterdam's own Madame Tussauds, where your fifteen seconds of fame, and a lot more, are waiting for you.
De Bijenkorf: A small 1870s shop with four employees has grown into the grandest department store chain of the Netherlands, with its largest and most famous branch at Dam square. Literally meaning "the beehive," this store is abuzz with shoppers selecting between leading global brands and of jewellery, perfumes, clothing, and accessories. An art gallery, a sprawling restaurant and café, and a hairdresser complete your luxurious experience.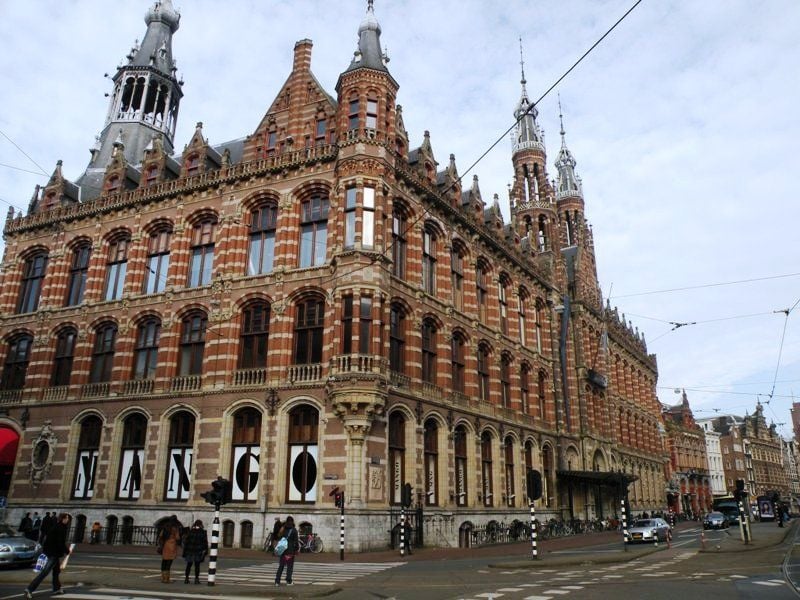 3) Magna Plaza: What does a city do with an immense and splendid post office that goes out of use? Convert it into the most stylish shopping arcade, of course. It's tough to peel yourself away from the imposing architecture of this historic building and pop into the shops for designer goods.
4) Amsterdam Museum: A walk through this museum will take you on a centuries-long journey through the history of this magnificent city: from the time it was a small fishing village to today's capital of culture and innovation. You'll learn quirky facts, eye-popping truths and amusing tales that friends back home will love to hear over and over again.
5) Spui: Home to the headquarters of Amsterdam University, interesting street markets, two English-Language bookstores and impromptu parties, the Spui square in the Nieuwezijde is highly recommended for a true taste of Amsterdam. An inconspicuous doorway at the square leads the Begijnhof: a quiet surprise in middle of the noisy city.
6) Begijnhof: Time seems to stand still in the Begijnhof. The original occupants, the unmarried women and widows who led monastic lives and served the needy, are long gone, but the atmosphere of calm and beauty with two small churches and a wooden house still remain as a testimony of the golden days. Step in and enjoy the silence.
7) Kalverstraat: Every brand you can think of is waiting for you with its latest collection on Kalverstraat.  Fast-food restaurants, and chain stores vie for your attention, and often have great discounts. You'd be surprised to know it's called "Kalverstaart" because for the longest time, it was a cattle market. When in the neighborhood, don't forget to check out the stunning views from Blue restaurant in the Kalvertoren Shopping Centre.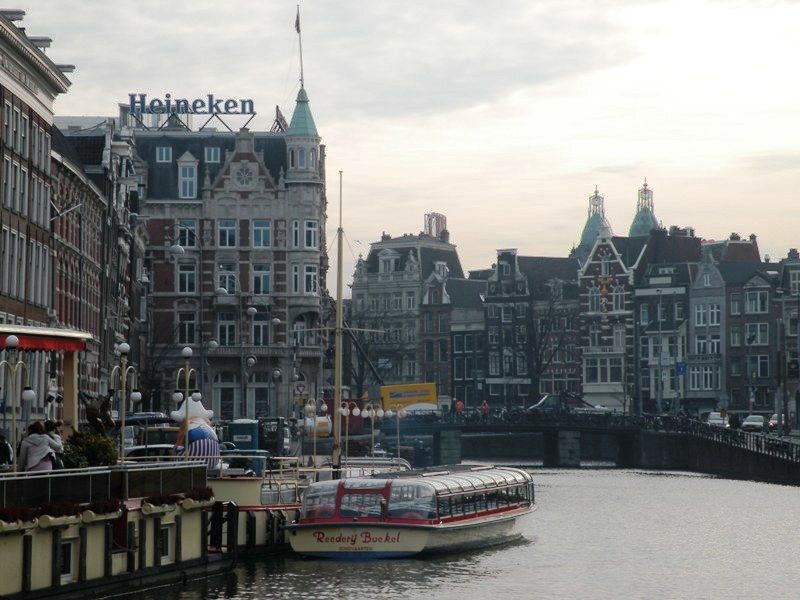 8) Amsterdam Dungeon: Step into a live history show where you could gain lots of knowledge, but also lose a limb, or your head! The Amsterdam Dungeon offers a delightful mix of horror, torture and dark arts that will send shivers down your spine.
9) Archaeological Museum: If you dig history, pay a visit to the Allard Pierson Museum, also known as the Archaeological Museum. Awaiting you here are treasures from ancient Egypt, the near east, Greece, Mesopotamia and the Roman Empire.
10) Bloemenmarkt: The southern end of the Nieuwezijde is home to eternal spring! The Bloemenmarkt or flower market offers fresh cut flowers and tulip bulbs all year round. Souvenir shops and Dutch restaurants add to the appeal, and ensure that visitors throng to this "floating" market day after day!
11) Shopping: If you have bags of cash and want to buy some diamonds or jewellery then head to Gassan Dam Square. Whether you're in the market for hemp clothes (Hempworks), retro clothing (Bij Ons Vintage), Japanese Stuff (T Japanese Winkeltje) or something else quirky or classy, you'll find it in Nieuwezijde.
12) Restaurants: You are spoilt for choice regarding eateries in the Nieuwezijde. Here's some of our top picks. Haesje Claes (Dutch cuisine), Lucius (Fish), Kobe House (Japanese) or Supperclub (Restro/Club), for the authentic
13) Nightlife: From live music bars to old Dutch brown cafés and coffee shops, the Nieuwezijde has all the ingredients for a night to remember (if you can). Beer lovers should drop by at the Beer Temple, where American and European beer is served, or if wine is your thing why not try Bubbles and Wines. For an Amsterdam coffee shop experience, drop by the Dampkring (made famous by Pitt-Clooney in Ocean's Twelve).