Grab a Coffee in Amsterdam
Food & Drink
As you roam through the city, you are bound to discover a coffee shop on almost every corner.
Amsterdam is world-famous for its coffee shops. In this article, however, I will focus on the types of coffee shops that sell coffee, rather than those that sell weed. As you roam through the city, you are bound to discover a coffee shop on almost every corner. How can you choose? Of course, you can stick to what you know. Name brands that charge 6 euro a cup are a dime a dozen (or in this case 600 dimes) and can be found in all areas likely to attract tourists, for instance, train stations. But did you really travel to a different country to drink the same coffee you could get back home? If you are looking for somewhere a little out of the way, a place where you can sit back with a great cappuccino or a fresh mint tea, grab a little lunch and relax, read, people watch, or just enjoy a great view, look no further.
Zeezicht - This is one of my personal favorite places in the city. Zeezicht is a quaint café with seating both inside and out. The inside is small, but very cozy. The rustic chairs and tables give it a great atmosphere. During the summer, they offer terrace seating on the Singel canal. The waiters and waitresses are friendly and, not only do they know the regulars, they also know their orders. I always order a mint tea and a slice of their apple pie, which is made on-site. If you come in early enough in the day, you can watch them peel the apples and prepare this Dutch treat.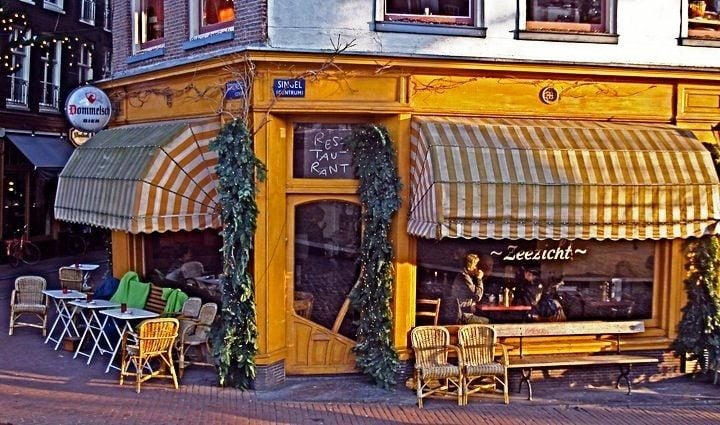 Bagels and Beans
- This is the only chain listed here. Among other reasons, I love
Bagels and Beans
for the consistency. I know that, regardless of where I might find myself in the city, I am never too far from a goat cheese, honey, thyme, and walnut sandwich on a cinnamon raisin bagel, and that is a comforting thought. Although it may seem that Dutch portions are smaller than you might expect, the large cappuccino at Bagels and Beans is a proper large. I always bring my out of town guests to Bagels and Beans because I know we will always leave happy.
Baton
- This is truly a local's favorite. Known for their sandwiches, soups and salads,
Baton
is a great place to come for lunch or brunch. Both Dutch locals and tourists enjoy Baton because offers a great location and seating right on the Herengracht. They have a fantastic espresso and highly recommended cakes and pies. The small entrance does not do justice to the interior, which is much larger than you would expect. With ample seating inside and out, this café offers good food served for a reasonable price and a great view.
Koko Coffee and Design 
- This coffee shop/ boutique is truly one of a kind. The unique concept developed by the owners, Caroline and Karlijn, is designed to stimulate all of your senses, and creates a one-stop shop for the hipster or vintage-lover. The eclectic design and mix of luxurious and industrial styles of furniture contribute to the distinctive atmosphere. The clothes and accessories are for both men and women and include exclusive designers and both new and vintage pieces.
Koko Coffee and Design
also hosts a new exhibition every two months, displaying the works of local artists.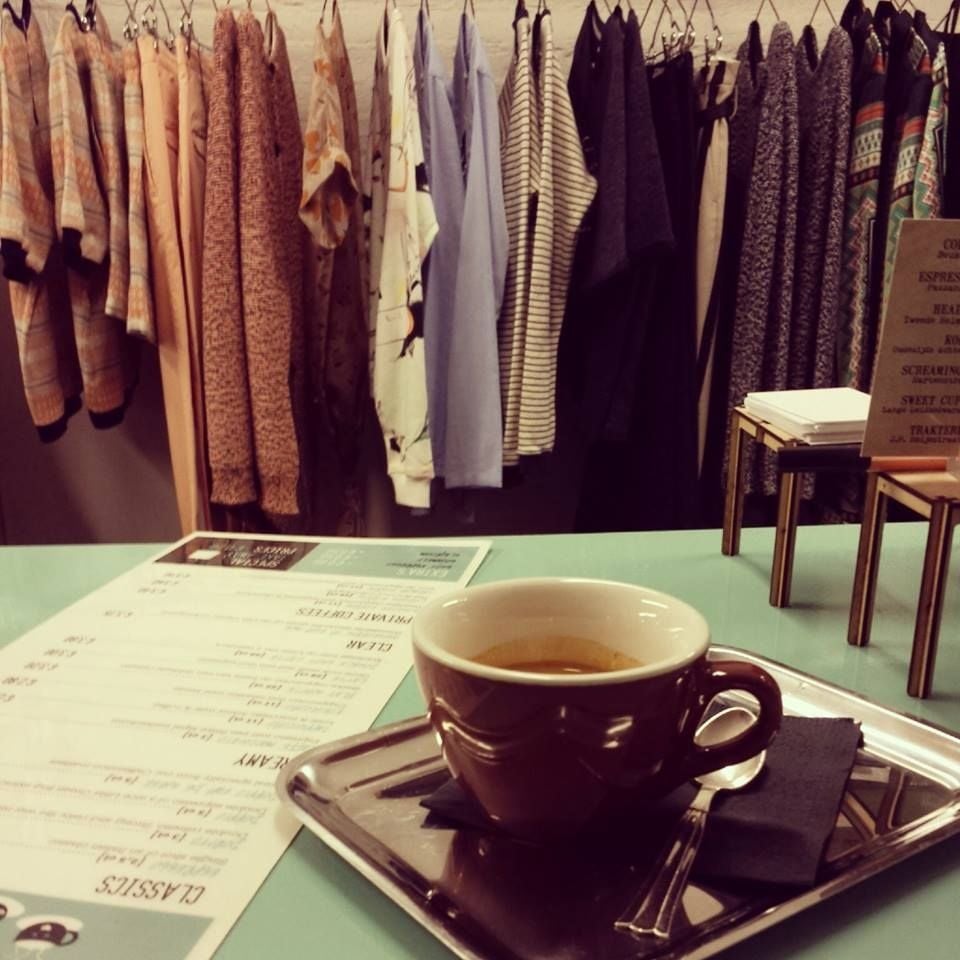 Coffee Bru 
- Just a few minutes walk from Oosterpark,
Coffee Bru
promotes a true coffee culture. Although they also offer great sandwiches and sweet snacks, Coffee Bru is a specialty coffee shop that is known especially for their strong espressos, so be careful! Consistently declared the best coffee in Amsterdam, Coffee Bru provides a great place to house your mobile office, write a paper, meet your friends, or just enjoy some alone time. The cozy terrace allows you to get out of the busy and sometimes crazy city and create a little world of your own.
Two For Joy Coffee Roasters 
- At Two For Joy, they roast their own coffee beans; right in the middle of the room. You can ask the baristas anything about the coffee bean roasting process and they are happy to explain. Renowned for their coffee throughout Amsterdam,
Two For Joy Coffee Roasters
 is located close to the Rijksmuseum, and is almost a coffee museum in its own right. Their coffee beans are often used at other coffee houses in Amsterdam. They tout ´the best coffee experience´ in Amsterdam, because to them, coffee isn't something you drink, it is truly something you experience.
Screaming Beans 
- Although
Screaming Beans
started as a specialty coffee shop, their expertise has expanded to include wine and a large choice of fresh foods for breakfast, lunch or dinner. From simple eggs and bread to specifically prepared oysters, Screaming Beans can please anyone's appetite. For dinner, Screaming Beans also offers a pairing tasting or a three or four-course meal. In addition to grabbing a coffee, you can also learn more about the selection, origin, and production of beans in one of the academy classes offered.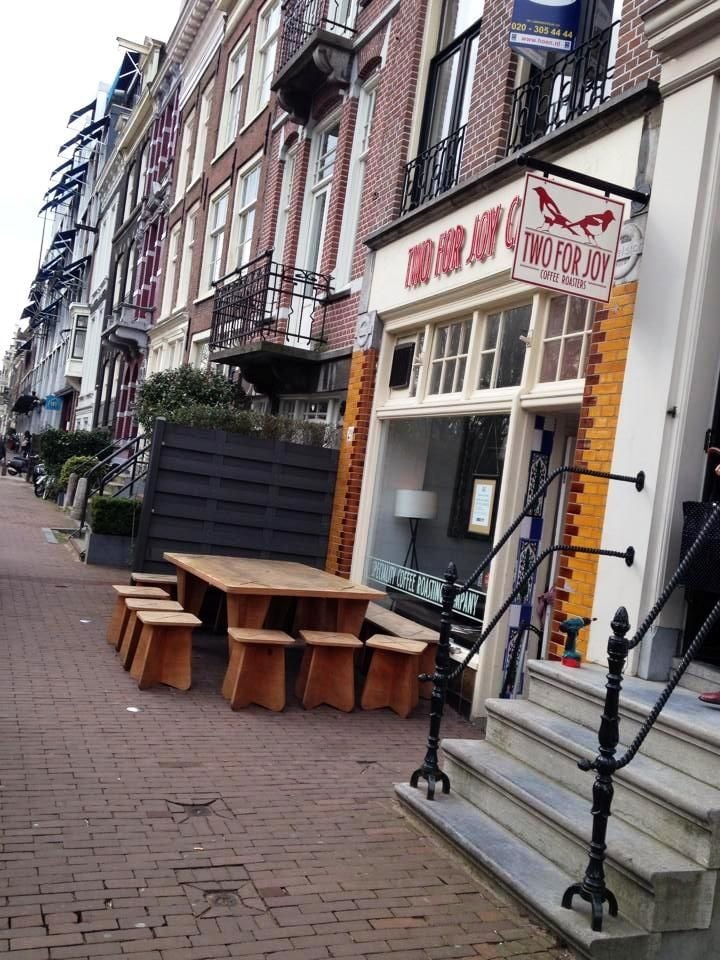 Caffe Il Momento
- Inspired by the coffee shops in Italy, Il Momento attempts to take the style and atmosphere north to the Netherlands. This little piece of Italy right in the center of Amsterdam offers a great place to take a little break. Located right on the Singel canal,
Caffe Il Momento
has a rustic feel, with bare brick walls and old iron fixtures. There are no fancy drawings in your cappuccino foam here, like true Italians, their focus is on the quality of the coffee and its taste, not on the presentation. 
Espresso Fabriek
- Don't be deterred because this place is a little off the tourist path. It is worth a step outside the canal ring. There are actually two locations, the newer one in Ijburg, an up-and-coming section of Amsterdam, and the older one in the Westergasfabriek. The Westergasfabriek is a trendy shopping area that was formerly a gas factory. The
Espresso Fabriek
there provides fantastic coffee and comfortable seating, with lounge chairs on a terrace and a free wifi connection. Espresso Fabriek is a top suggestion for coffee, but there is nothing really substantial to eat. 
Van Harte
- Another great place to grab a bite to eat and a cappuccino,
Van Harte
is located in the negen straatjes, the boutique area of Amsterdam. This café is a bit hidden, even though it is in such a great location. You could really walk right past it without noticing it, but a quick pop inside will convince you to stay for lunch. The typically Dutch atmosphere is enhanced by the local clientele; it is clear that this is not a touristy establishment. Though the customer service can be hit or miss, the sandwiches are always tasty!